Global statistics show that one in fifteen women is affected by PCOS worldwide. Those who don't know, PCOS is a hormonal disorder that affects a woman's hormone levels resulting into health complication such as Facial Hair with PCOS, menstrual dysfunction, infertility, excessive body hair growth, acne breakout, obesity, and metabolic syndrome.
While all the health problems triggered by PCOS are challenging and complex in nature, hirsutism is one of the most common and emotionally draining.  
PCOS triggered Hirsutism & Its Causes
Hirsutism is excessive hair growth on the body, and the major concern of women is the facial hair growth. The unwanted hair growth mostly around the jawline, chin, arms, legs, and torso hugely damages the mental wellbeing of young women.
The excessive hair growth on the body is majorly a symptom of high androgen levels. When a female's body begins to produce the excess level of male hormones, androgen, it results in Hirsutism. This problem can cause mental distress, frustration and social anxiety in women.
Treatments & Remedies for PCOS triggered Hirsutism
To address this hormonal imbalance, or at least, keep its symptoms in control, PCOS specialists and experts recommend multiple treatments, remedies, and health tips. Team Furocyst has listed the best measures for women struggling with PCOS triggered Hirsutism. Below are the same!
Dietary changes & natural treatments
An unhealthy diet can cause hormonal problems. For proper functioning of the body, it is very important to maintain healthy hormonal levels, which can be done by maintaining a healthy diet. Make necessary dietary changes by:
Cutting off processed edibles.

Adding healthy fats like ghee, olive oil, nuts, and avocados to your diet.

Eating veggies and fruit loaded with fiber.

Eliminating dairy products.
Adding natural supplements can help improve the androgen levels in the body, thus ceasing the excessive body hair growth. Try these natural supplements for effective results:
Drinking two cups of spearmint tea on daily basis can help lower down the androgen and testosterone levels in women suffering from PCOS. The results are certainly not instant though; you continue sipping on spearmint tea for a while to see the results.
Flax seeds – a

rich source of

fiber, omega 3 fatty acids, and essential amino acids -are a natural supplement to reduce body hair growth. Flax seeds tend to reduce the ovarian volume and number of follicles in polycystic ovaries.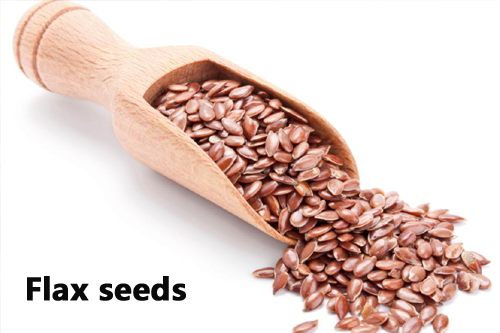 Hirsutism

triggered PCOS can be cured with Saw Palmetto. Studies reveal that this small palm can control 5AR (an enzyme in the body that converts testosterone into DHT) and receptor binding of androgens.
Above dietary changes will help in checking Hirsutism but they aren't quick cures to the problem.
Medications for PCOS hair complications
Certain medications and drugs are effective for treating Hirsutism in women suffering from PCOS. Medical treatments to manage facial hair growth include drugs that act as androgen blockers, androgen suppressors and androgen inhibitors. Doctors recommend contraceptive pills, corticosteroids, and drugs which sensitize the insulin to treat Hirsutism. However, some of these medicines bring along side-effects and can cause proa blem during pregnancy or while conceiving.
Furocyst is a clinically proven supplement made with fenugreek seed extract made for management of PCOS and its symptoms. The product has shown no sign of side-effects to date and is internationally proven to be completely safe for use. It has been internationally patented and clinical studies on 257 subjects have already been completed proving its efficacy and safety.  Check out the product on the official website.
In case medication is something you don't wish to try yet, hair removal techniques can be explored to check hair growth.
Hair removal techniques at home for PCOS
Some hair removal techniques can be practiced in the comfort of your home depending on the area, amount, and consistency of Facial hair growth. Read on!
Shaving is the most common hair removal method. While it can work great for body parts like arms and legs, we would not suggest it for shaving the facial hair.

Bleaching creams lighten up the hair color and work the best on light and soft hair, especially around the jawline. However, if you have a sensitive skin, it is better to take some precautions.

Another easy method to remove hair is hair removal creams. It is advised to do a patch test before using such cream as the chemicals in these creams can cause skin irritation.

Waxing is the most commonly used hair removal technique. The technique involves plucking of hair with a waxing strip coated with wax usually made with honey and beeswax.
Plucking, tweezing and using epilators are some other hair removal techniques that can be performed at home.
Some women don't want to deal with PCOS hair removal on a weekly or monthly basis, and hence are looking for more permanent solutions. Below are the same!
Hair removal techniques for PCOS triggered Hirsutism
Seek professional hair removal treatments to get rid of unwanted facial and body hair makes perfect sense. These treatments are quite expensive and require multiple sittings, depending on the volume and area of hair growth.
The most long-lasting treatment of hair removal is laser hair removal method. Although it is not a permanent solution, it helps you get rid of hair for a fair time, but at an expensive price.
Hair electrolysis method permanently removes the hair follicle. However, this method can be painful and cause skin complications.
This is it!
While above were our insights and recommendations on PCOS related hair growth, we want to hear from you too! Share your experiences with PCOS in the comments section and educate others.