Fenugreek (Methi) is an herb used for medicinal purposes from many years in India and North Africa. Its leaves & seeds contain bioactive components. Its leaves provide 49 calories and contain 89% water, 6% carbohydrates, 4% protein, and less than 1% fat, with calcium. Its seeds are rich sources of protein, dietary fiber, B vitamins, iron, and several other dietary minerals. you will get to know about the health benefits of fenugreek. (http://ninindia.org/dietaryguidelinesforninwebsite.pdf)
Availability (regions)
Fenugreek is majorly available in Nepal, India, Pakistan, Bangladesh, Argentina, Egypt, France, Spain, Turkey, Morocco, and China. The Indian states which majorly produce fenugreek are Rajasthan, Gujarat, Uttaranchal, Uttar Pradesh, Madhya Pradesh, Maharashtra, Haryana, and Punjab.
(http://www.spiceflair.com/fenugreek/)
Nutritional Value of Fenugreek
It contains a wide variety of beneficial nutrients, including iron, magnesium, manganese, and copper, as well as vitamin B6, protein, and dietary fiber. Fenugreek also contains a number of powerful phytonutrients, including choline, trigonelline, yamogenin, gitogenin, diosgenin, tigogenin, and neotigogens.
(https://www.organicfacts.net/health-benefits/vegetable/fenugreek.html)
Health Benefits
Fenugreek is rich in bioactive components such as saponins, soluble fiber, insoluble fiber, etc. These bioactive components contribute to various health benefits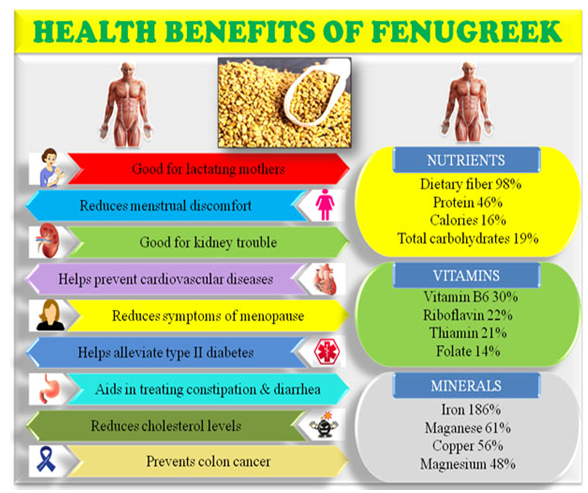 Fenugreek & Management of Type-2 Diabetes: It has been proved by many clinical & non-clinical studies that fenugreek helps in lowering blood glucose levels in diabetic individuals. The bio-active component of fenugreek (Saponins & 4-hydroxy isoleucine) is reported to increase the release of insulin from the cells (beta cells) so that sugar levels in the blood can be normalized.
One of the published studies of innovative research product FENFUROTM reported a significant change in blood glucose levels, decrease in HbA1c levels, fasting plasma glucose levels, PP plasma glucose levels and increase in C-peptide levels as compared to Placebo group. The fenfuro-treated group also showed a reduction in concomitant anti-diabetic therapy.
Regular intake of FENFURO can control the blood sugar level effectively. Fenfuro is a first of its kind, safe nutraceutical derived from fenugreek seeds through a patented process. Through its unique scientific process, FENFURO concentrates the bioactive part of plants into a manageable dose, while removing the inert parts such as cellulose. Also, since a lot of healthy botanicals are not palatable, consuming their concentrate in capsule form in small dosage is a lot easier. FENFURO contains a rich variety of saponins and flavonoids. These substances are known to lower blood lipid level and help in insulin sensitization and glucose regulation. FENFURO is the first dual action insulin sensitizer.
Fenugreek Lipid lowering activity: Fenugreek has hypocholesterolemic effect ie. cholesterol-lowering effect, which is due to the action of fibers & saponins of fenugreek on the hepatic cholesterol. These components increase the thermogenetic process (conversion of cholesterol to energy with the help of heat) of the lipids inside the cells. Many reports have shown that fenugreek was effective in lowering total cholesterol, LDL cholesterol and triglyceride levels in the body. Animal studies also suggest that when rats were fed with hypercholesterolemic diet then, fenugreek prevented the rise in serum cholesterol levels.
Fenugreek Antioxidant activity: The bioactive components (flavonoids & polyphenols) present in fenugreek contribute to its antioxidant activity. It blocks the chain reaction formed by free radicals. This activity of fenugreek helps in protecting the body from oxidative damage.
Fenugreek Anti-inflammatory activity: It has been demonstrated by animal studies that fenugreek has anti-inflammatory activity also. Fenugreek showed the beneficial effect of inhibiting inflammatory responses in many animal studies. It helps with inflammation within the body such as mouth ulcers, bronchitis, tuberculosis, chronic coughs, kidney ailments, etc.
Fenugreek Testosterone booster: Fenugreek is claimed to boost testosterone levels in men by inhibiting 5-α-reductase (an enzyme which converts testosterone to dihydrotestosterone). It is thus helpful in improving libido, energy, strength, and well-being.
Fenugreek Joint pain relieving: Fenugreek is reported to cure joint pain, particularly from arthritis. This beneficial effect is due to its antioxidant & anti-inflammatory property. It has been reported that fenugreek mimics estrogen which is known to inhibit conditions like arthritis. It inhibits inflammation by activating those pathways which counteract the effect of autoimmune disorders.
Decrease in dysmenorrhea by Fenugreek: Clinical study data suggest that prescription of fenugreek seed powder during menstruation can reduce the severity of dysmenorrhea. Fenugreek helps in the reduction in pain, fatigue, headache, nausea, vomiting, and lack of energy during the menstrual cycle. Fenugreek helps to balance hormones which are responsible for menstruation.
Fenugreek in PCOS: Recently fenugreek is reported to prevent polycystic ovary syndrome (PCOS). It has been reported that fenugreek seed extract is capable to reduce cyst size in the ovaries and prevent the formation of new cysts. It is also reported to reduce the ovarian volume. The clinical data suggest that fenugreek was effective in maintaining the regular menstrual cycle. For more information please visit www.furocyst.com
References
http://www.ncbi.nlm.nih.gov/pubmed/26516311
For more info visit https://furocyst.com or
Call : +91 9915002390
HEALTH BENEFITS OF FENUGREEK