Are you STRUGGLING WITH JOINT PAIN IN PCOS? POLYCYSTIC OVARY SYNDROME is one of the most common diseases among women of childbearing age and cause of infertility. There are over 5 million affected women in the US and 105 million worldwide who are suffering from PCOS.
Another disease i.e. RHEUMATOID ARTHRITIS is a chronic progressive disease causing inflammation in the joints.
It has been found that PCOS also gives rise to this rheumatoid arthritis in women. Joint pain and rheumatoid arthritis (RA) generally develop in old age due to the weakening of the immune system of the body. But it has been confirmed by scientific studies that women with PCOS having irregular menses or a truncated menstrual history (e.g., early menopause) have an increased risk of RA.
In reverse, the inflammation originated from rheumatoid arthritis worsens the condition of PCOS because somehow, the chronic low-grade inflammation from RA has been linked to insulin resistance. If the insulin levels are higher than they should be, the ovaries start to produce too much testosterone, which makes PCOS even worse.
HOW PCOS AND RHEUMATOID ARTHRITIS LINKED?
The immune system is influenced by signals from the female reproductive hormones. It seems that the levels of hormones, such as estrogen and testosterone, as well as changes in these levels, can promote autoimmunity. "Autoimmunity" is a condition whereby the immune system (which normally wards off foreign invaders of the body, such as infections) turns and attacks the body's own tissues, such as skin, joints, liver, lungs, etc. Autoimmune diseases typically feature inflammation of various tissues of the body. 
It is known that hormones play a major role in the development of rheumatoid arthritis. It is also known that PCOS is that syndrome which involves the imbalance of the reproductive hormones. Disturbance in these hormones such as progesterone & estrogen gives rise to rheumatoid arthritis. STRUGGLING WITH JOINT PAIN IN PCOS
SYMPTOMS OF RHEUMATOID ARTHRITIS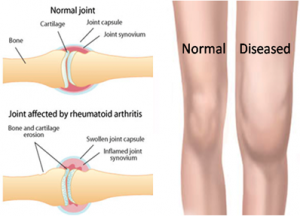 Tender, warm, swollen joints
Joint stiffness that is usually worse in the mornings and after inactivity
Fatigue, fever and weight loss
Early rheumatoid arthritis tends to affect the smaller joints first – particularly the joints that attach fingers to the hands and toes to the feet.
As the disease progresses, symptoms often spread to the wrists, knees, ankles, elbows, hips, and shoulders. In most cases, symptoms occur in the same joints on both sides of your body.
DIAGNOSIS
STRUGGLING WITH JOINT PAIN IN PCOS: Rheumatoid arthritis in PCOS can be difficult to diagnose in its early stages because the early signs and symptoms mimic those of many other diseases. There is no one blood test or physical finding to confirm the diagnosis.
Physical examination
During the physical exam, the doctor will check the joints for swelling, redness, and warmth. The doctor may also check the reflexes and muscle strength.
Blood tests
People with rheumatoid arthritis often have an elevated erythrocyte sedimentation rate (ESR, or SED rate) or C-reactive protein (CRP), which may indicate the presence of an inflammatory process in the body. Other common blood tests look for rheumatoid factor and anti-CCP antibodies.
Imaging tests
The doctor may recommend X-rays to help track the progression of rheumatoid arthritis in the joints over time. MRI and ultrasound tests can help the doctor judge the severity of the disease in the body.
 COMPLICATIONS OF RA
Lung disease
Heart problems
Nerve damage
Osteoporosis
Eye complications such as dry eye syndrome
PREVENTION AND TREATMENT
Meal planning 
There are many foods that can help to reduce inflammation originated from RA inside the body. Eating a wide variety of whole foods is the key to reduce inflammation. The plant-based foods rich in vitamins and nutrients that target inflammation include:
Fruits
Vegetables
Beans
Nuts
Seeds
Whole grains
Some foods are extremely beneficial to reduce inflammation. Often, fruits and vegetables contain antioxidants, which combat inflammation. Antioxidants are found in very colorful foods, such as berries, and dark and leafy greens and this help support the immune system.
Eating inflammatory foods should be avoided. Some of these foods include:
Deep-fried foods
Processed food
Red meat
Sugary drinks
Refined grains, such as those found in white bread
Exercise
Being active is one of the best things you can do for yourself, even if you have rheumatoid arthritis. You just have to know how to work within your limits because too much exercising involving stress on the joints can be harmful.
Fitness as a regular part of life provides many benefits for PCOS as well as RA patients such as:
Less pain from rheumatoid arthritis.
Stronger bones. This is important because RA can thin your bones, especially if you take
You'll move better and have more energy.
It's good for your heart and all your other muscles.
It helps to lose body weight in obese women
It helps to control diabetes
STRUGGLING WITH JOINT PAIN IN PCOS: Exercises such as low-impact activities, like walking, swimming, bicycling, or using an elliptical machine could be beneficial to manage rheumatoid arthritis. Any of these will get the heart pumping.
Be careful about activities that put a lot of stress on a joint, or are "high-impact," such as:
Jogging, especially on paved roads
Heavyweight lifting
Balancing hormones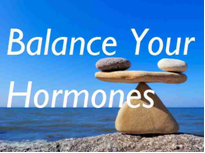 Maintaining normal levels of the reproductive hormones estrogen and progesterone appear to have a protective effect against both RA and PCOS. The medications given in the following section can be effective at balancing hormones.
Medication
Managing inflammation is a key component to living with rheumatoid arthritis (RA). This chronic condition results in the immune system attacking the joints, causing inflammation and pain.
Medications used in the treatment of rheumatoid arthritis include NSAIDs, DMARDs, TNF α-inhibitors, IL-6 inhibitors, T-cell activation inhibitors, B-cell depleters, JAK inhibitors, immunosuppressants, and steroids.
The contraceptive pill may be recommended to induce regular periods, or periods may be induced using an intermittent course of progestogen tablets (which are usually given every three to four months but can be given monthly).
A medication called clomifene is usually the first treatment recommended for women with PCOS who are trying to get pregnant. Clomifene encourages the monthly release of an egg from the ovaries (ovulation).
Clinically proven herbal remedy for PCOS including fenugreek seeds extract (Furocyst) can also be prescribed due to its great effectiveness in the PCOS patients.
REFERENCES
STRUGGLING WITH JOINT PAIN IN PCOS