An estimated 1 out of every five women has Polycystic Ovary Syndrome or more commonly known as PCOS. Though, few know anything about PCOS let alone the symptoms, which can often go undetected. This means millions of women have this disorder and don't even know it.
Let's shed some light on this disorder with 7 little known facts about PCOS.
A diagnosis can be relieving and heartbreaking
There is no single test that can diagnose PCOS however, the disorder is characterized by small cysts on the ovaries and infrequent, irregular periods making pregnancy more difficult. An ultrasound and blood tests are usually conducted to confirm the presence of cysts as well as high androgen levels.
Your doctor is the only one who can confirm that you have PCOS however, they may not have extensive knowledge of and experience treating PCOS. Research and self-learning  is essential so you can be your best advocate. While the news is difficult for many women to hear, some describe feeling relieved at finally being able to put a name on the symptoms that have troubled them.
We don't know why certain people develop PCOS over others
The ovarian cysts create chaos in the body by disrupting hormone balance. While the cause of PCOS is well-founded, researchers do not yet understand why certain people develop PCOS and others don't. The disorder is believed to run in families and is related to hormones and insulin production. As such, any woman can be affected by PCOS.
Symptoms vary greatly
The symptoms of PCOS can vary from woman to woman making the disorder difficult to acknowledge. More than half of women don't, or believe they don't have, any symptoms however, some of the most common are oily skin, recurring acne, irregular, infrequent, or absent periods, excess facial and body hair, scalp hair loss or thinning, and weight gain. Due to disrupted ovulation and the increased risk of miscarriage, PCOS women may also have problems getting pregnant.
Some may even surprise you
On top of all this, women with PCOS may experience depression due to hormonal imbalance in addition to a higher instance of skin tags, dandruff, high blood pressure, and a deeper voice. PCOS women understand more than anyone how vital hormone balance is to overall health.
Food and hormone balance go hand in hand
On that note, the food you eat has a dramatic impact on hormone balance and often simple lifestyle changes can improve overall health significantly in women with PCOS. It's recommended that women with PCOS avoid inflammatory foods including dairy and soy as well as goods high in fat and saturated fat such as meat, dairy and eggs. These foods are also highly processed and contain added hormones, which can disrupt hormone balance in women. Eating a diet primarily of whole, plant-based foods rich in fiber and antioxidants has shown to help women lose weight, restore hormone balance and reduce the risk of type 2 diabetes, heart disease and cancer.
There are medications you can use to treat PCOS
There is no single pill that can address the underlying cause of PCOS however; there are medications that can help insulin resistance, ovulation and hormonal skin imbalance.
If you're wary of medications, supplements in addition to lifestyle changes can have a positive effect on women with PCOS.
Furocyst, for example, is extracted from the Fenugreek seed without using chemicals and is rising in popularity as a beneficial supplement. Clinically proven safe and effective for managing PCOS, Furocyst is shown to reduce the size of ovarian cysts and improve insulin sensitivity. For more information, visit www.furocyst.com.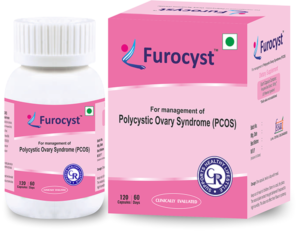 PCOS is dangerous if left untreated
If left untreated, PCOS can lead to more serious health problems in the future including heart disease, Type 2 diabetes, and even endometrial cancer. Seek out help from a doctor as early as possible if you experience any of the symptoms talked about in this article.
To prepare yourself for the road to healing, consider and research extensively the significant benefit lifestyle changes can have on your life.
The statement and product mentioned in this article have not been evaluated by the FDA to diagnose, treat, cure or prevent any disease.
For more,
Call : +91 9915002390
Introducing PCOS with 7 Little Known Facts